Sunday we got to spend the majority of the day together as a family. After worship at both churches, we met up at home for lunch. Mommy and Daddy had leftovers while Mommy made the boys TWO boxes of Mac N Cheese that were quickly devoured.
While Mommy ducked out to officiate an afternoon outdoor wedding for a church member's daughter, the "mans" stayed home to watch football and create this.............
That's a Toy Story Landfill connected to the Space Shuttle docking station connected to the Air Craft Carrier (transporting airplanes, space shuttle and garbage truck). Such creativity!
When Mommy returned, the afternoon included some baking of yummy brownies and thanks to Wesley some cleaning......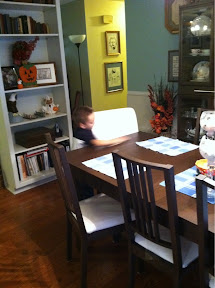 Since the Bucs football game turned out to be a disappointment, our attentions turned to other matters - a run for Mommy on the treadmill in the garage, bike riding and scooter riding in the driveway for the boys, and the completion of our picture wall from the England trip for Daddy while jammin' out to 80s tunes! Wesley came in towards the end and tried out his dancing skills - this is the little guy trying to break dance.
- Posted using BlogPress from my iPhone