Thursday was Grandma's birthday. The original plan was for Mommy to spend the day with her at home doing things around the house and then go out to dinner to celebrate.
But since Thursday was the second day of Grandma's new job, it wasn't the time for a day off. So she went to work and Mommy spent the day in the house accomplishing the "daughter-do" list: be there for the Verizon installer (now upgraded to digital voice, cable and DSL), finish installing programs on the new computer, created and setup a new email address, installed the birthday present of a computer camera and set up a Skype account, set up internet bookmarks, changed desktop picture (to the same one as our profile pic here), set up her voicemail, programmed all the family phone numbers into her wireless phones, moved some furniture (many thanks to Uncle Daniel for assembling a filing cabinet and helping shift things around!).
The fun part came when Grandma got home and Mommy showed her how to work everything including how to record shows on the TV. Then we headed out to dinner at Red Lobster - and made sure to have the waiters bring a cake and sing Happy Birthday!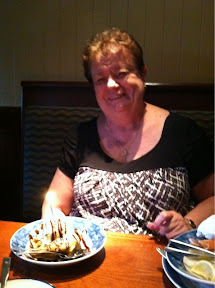 We probably would have gone out to the cemetery to visit Dad, as it was also his birthday. However when we called, his headstone had not yet arrived and so we'll wait a bit more.
Mommy got to drive Grandma's new car home from dinner and then she headed home to Ocala; arriving about 9:30pm, fifteen hours after she had pulled out of the driveway that morning. A long but very productive day - so glad to be able to help Grandma celebrate.